The Place to be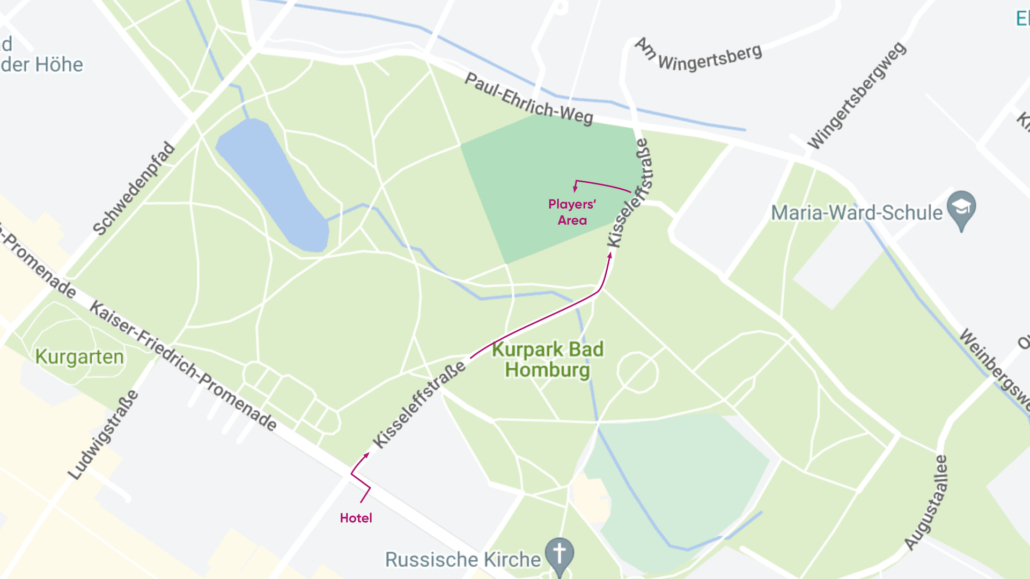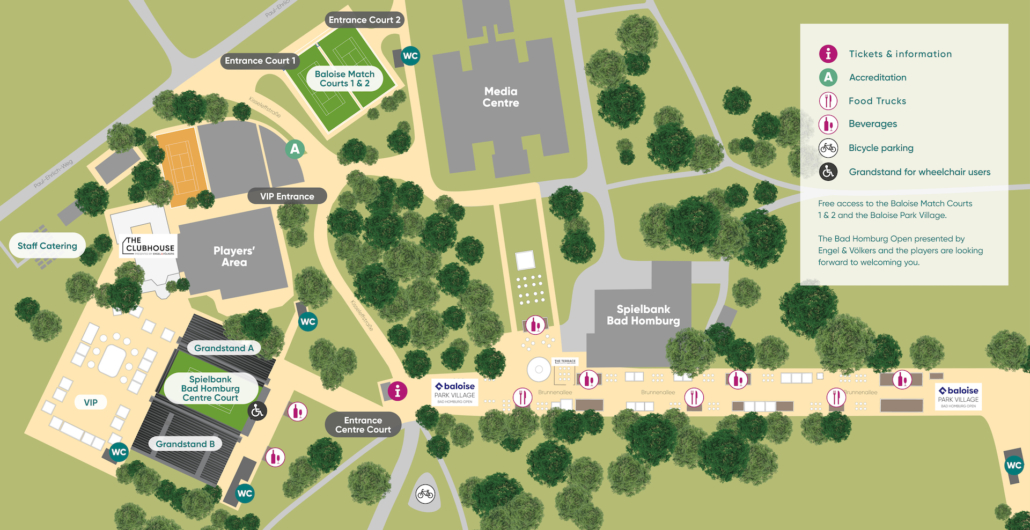 Team Contact
Accommodation
Ingrid June Dua Lucu
+ 49 (0) 179 4335 486 (from 16 June)
ingrid_dua@yahoo.com
Chief of Officials
Matthias Giese
+ 49 (0) 163 6363 733
Players' Attendants
Susanne Rossbach
+ 49 (0) 172 940 37 64
Press Centre
Ulrike Weinrich
+ 49 (0) 174 8888 417
Prize Money
Johanna Blank
prizemoney@perfectmatch.de
Referee
Sabine Schulz
+ 49 (0) 177 7032 957
Tournament Director
Aljoscha Thron
+ 49 (0) 160 925 059 60
Tournament Doctors
Dr. Jan Wolff
+ 49 (0) 6172 690 344
Tournament Office / Practice Courts
Noemi Hemmerich (15-19 June)
+ 49 (0) 151 40513732
Birgit Wolters (from 19 June)
+ 49 (0) 174 2001 030
service@badhomburg-open.de
Transportation
Jendrik Worlitz
+ 49 (0) 171 301 8926
j.worlitz@quadriga.group
WTA Communications
Raquel Martin
+ 34 610 224487
WTA Massage Therapist
Freek Hulgen
WTA Player Relations
Mike Anders
+ 1 (0) 727 331 3231
WTA Primary Health Care Provider
Anna Sophie Laura
+ 33 619 741235
WTA Supervisor
Donna Kelso
+ 1 (0) 727 686 4406
Credentials
The Bad Homburg Open takes all reasonable steps to ensure the safety of everyone entering the venue. This includes the issuing of credentials to players, coaches and family members. Each main draw singles and doubles player is entitled to two additional credentials.
Any extra requests (number of PST and/or hotel rooms) must be submitted via email to Flora Gao (fgao@wtatennis.com) copying the WTA Supervisor (dkelso@wtatennis.com) by Monday 13 June. All tournament credential applications must be completed and submitted online (www.wtauno.com) before the arrival at the tournament. Credential distribution will be at the hotel.
Please note: credentials must be worn at all times whilst at the venue (except when on court) and are not transferable.
Hotel
At the hotel accommodation Steigenberger Hotel Bad Homburg, Main Draw Singles Players will receive a minimum of 5 nights and Main Draw Doubles Players will receive a minimum of 4 nights starting from Thursday. Singles Qualifying Players will receive a minimum of 3 nights starting from Friday.
Catering
16–26 June Catering at the Steigenberger Hotel  
Soft drinks and coffee will be provided free of charge at the hotel lobby and Ritter Bar section
Breakfast will be served from 6 a.m. to 10 a.m. week days and 7 a.m. to 11 a.m. weekend at Ritters Restaurant, on the terrace and is available as room service
A la carte Lunch will be served from 11.30 a.m. to 2.30 p.m.  at Ritters Bar, on the terrace and is available as room service
A la carte Dinner will be served from 4.30 p.m. to 9.00 p.m. at Ritters Bar, on the terrace and is available as room service till 10.00 p.m.
Breakfast is included in the room rate
All charges will be put on the hotel bill. Each player team will receive a 50€ F&B credit per day (billing will be done at check-out)
17–25 June Catering on-Site at the Waiting Lounge (8 a.m. to 8 p.m.)
Soft drinks, coffee, fruits, bars and nuts will be provided at the Kur Royal Activ
Practice Courts
There are three practice courts on-site and three more on-site, available from Thursday 17 June. The on-site courts are available during the whole tournament-week at Homburger Turn Gemeinde located 4km from the main site.
Practice is also permitted on Centre-Court, Court 1& 2 before each day's start of play and during long breaks. Please note: practice must end half an hour before a match is scheduled to commence on the same court.
Pre-booking for practice is required. Please contact the Player's Desk Noemi Hemmerich +49 (0) 151 40513732 / Birgit Wolters +49 (0) 174 2001030.
Stringing Service
YONEX is the official stringing service of the Bad Homburg Open. The booth is located at the public area. For further information, please contact the Tournament Office.